WE Rotary | Rotary eClub of District 5000, Hawaii | Club President Update July 2015 – Keep updated with the latest news from WE Rotary Club; District 5000, Rotary International and other Rotary International updates. Click on the links below for more information
We Rotary eClub July 2015 Updates

 
We Rotary Update | 1st Humanitarian Projects in Burma and Thailand Interested in donating or traveling on to implement? For more information CLICK HERE
 
We Rotary Update | Rotary World Peace Conference Promotion – We Rotary e-Club D5000 to kick off a series of promotional Press Release for the Rotary Peace Conference Aug 16-Nov 8. For more information and schedule of dates please CLICK HERE
 
We Rotary Update | Foundation Committee Deadline Aug 1st – Thank you to members Steve Yoshida and Eddie Lim for your hard work in completing our clubs grant request. For more information CLICK HERE
We Rotary Update | Rotary World Peace Conference Twinning Certificates with One World e-Club – More information to be released about the our club's Twinning Ceremony hosted at the Peace Conference. For more information CLICK HERE
We Rotary Update | Peace Conference – Welcoming Virtuosi Yakutii Group to the Peace Conference. For more information CLICK HERE
District 5000 July 2015 Updates

 
D5000 Update | D5000 Vocational Committee "IGNITE" Update – Learn more about D5000 updates on the memberships within our district. Learn more about other Hawai'i clubs at For more information CLICK HERE
D5000 Update | RI President Ravi Visit's Hawai'i for our 100 years in Hawai'i – Ravi's media coverage videos and images can be found at For more information CLICK HERE
D5000 Update | Literacy Newsletter – To learn more about D5000 Literacy programs visit For more information CLICK HERE
Rotary International July 2015 Updates

 
RI President Update | RI Pres Ravi Welcome 2015-2016 Video – Inspirational video to kick-off the start of the 2015-2016 "Be a Gift to the World" year. Watch this video at https://vimeo.com/128627765 or visit or for more information CLICK HERE
RI Update | Water & Sanitation Rotarian Action Group Newsletter June/July 2015 Released – Learn more about WSRAG Projects. For more information at http://www.rotarydistrict9685.org.au/Stories/wasrag-newsletter-2 or CLICK HERE
RI President Update | RI Pres Ravi Polio Eradication in Nigeria Update – Information about the polio-free country of Nigeria and the $688.5 million to fight polio throughout Africa. Watch this video at https://vimeo.com/133494480 or visit or for more information CLICK HERE
RI Reminders | Rotary President Task for the 2015-2016 – There are a variety of requirements needed to be completed by each Rotary Club President to learn more information CLICK HERE
RI Update | Rotary Global Rewards – The release of this member benefit program that offers discounts on products and services to all Rotary Members. For more information CLICK HERE
RI Update | Membership Recognition Program – Earn an opportunity to gain a sponsor recognition pin for new members you sponsor into our club. For more information CLICK HERE
RI Update | Leader Newsletter Peace Fellows; Rotary on a Budget; San Paulo; Club Invoices…. For more information CLICK HERE
Other Rotary International July 2015 Updates

 
RI Opportunity | Rotary Global Essay Competition – ROGEC 2015 – Peace essay winners will earn an invitation to visit India and Rotary Club of Pune Katraj. Entries due November 10, 2015. For more information CLICK HERE
---
We Rotary eClub July 2015 Updates
We Rotary Update | First Humanitarian Projects Announced for Burma and Thailand…
---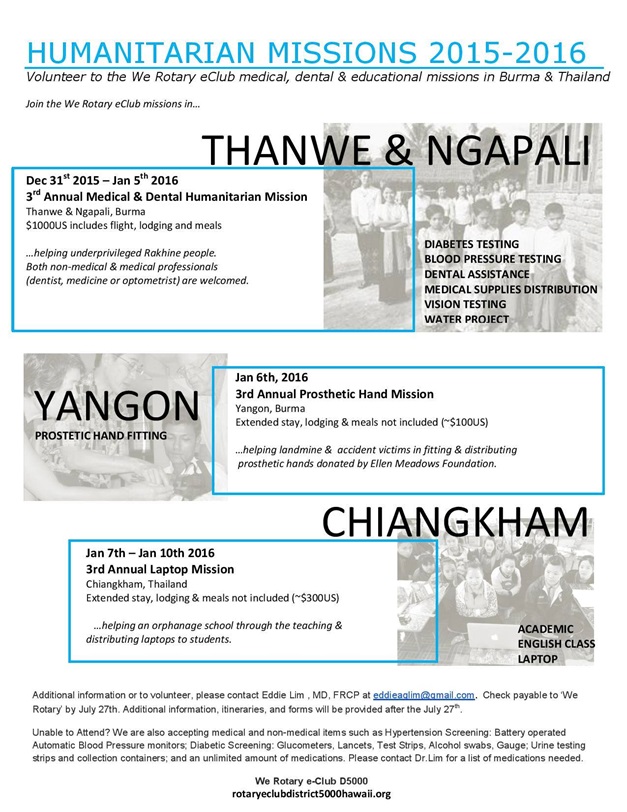 HUMANITARIAN MISSIONS 2015-2016 Volunteer to the We Rotary eClub medical, dental & educational missions in Burma & Thailand Join the We Rotary eClub missions in…
THANWE & NGAPALI Dec 31st 2015 – Jan 5th 2016 3rd Annual Medical & Dental Humanitarian Mission Thanwe & Ngapali, Burma $1000US includes flight, lodging and meals …helping underprivileged Rakhine people. Both non-medical & medical professionals (dentist, medicine or optometrist) are welcomed. DIABETES TESTING BLOOD PRESSURE TESTING DENTAL ASSISTANCE MEDICAL SUPPLIES DISTRIBUTION VISION TESTING WATER PROJECT
YANGON Jan 6th, 2016 3rd Annual Prosthetic Hand Mission Yangon, Burma Extended stay, lodging & meals not included (~$100US) …helping landmine & accident victims in fitting & distributing prosthetic hands donated by Ellen Meadows Foundation. PROSTETIC HAND FITTING
CHIANGKHAM Jan 7th – Jan 10th 2016 3rd Annual Laptop Mission Chiangkham, Thailand Extended stay, lodging & meals not included (~$300US) …helping an orphanage school through the teaching & distributing laptops to students. ACADEMIC ENGLISH CLASS LAPTOP
Additional information or to volunteer, please contact Eddie Lim , MD, FRCP at eddieaglim@gmail.com. Check payable to 'We Rotary' by July 27th. Additional information, itineraries, and forms will be provided after the July 27th. Unable to Attend? We are also accepting medical and non-medical items such as Hypertension Screening: Battery operated Automatic Blood Pressure monitors; Diabetic Screening: Glucometers, Lancets, Test Strips, Alcohol swabs, Gauge; Urine testing strips and collection containers; and an unlimited amount of medications. Please contact Dr.Lim for a list of medications needed. We Rotary e-Club D5000 rotaryeclubdistrict5000hawaii.org
---
We Rotary eClub July 2015 Updates
We Rotary Update | Rotary World Peace Conference Promotion – We Rotary e-Club D5000 to kick off a series of promotional Press Release for the Rotary Peace Conference…
---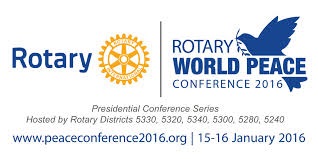 Subject: Promotion of Track for the Rotary World Peace Conference 2016
Dear Kat and Barbara,
Attached is the schedule we made yesterday at a meeting discussing promotion of the 2016 Rotary World Peace Conference. Following two weeks of overview, we will begin promoting a track a week on the conference site. Luke needs content so please be thinking about content that will promote the various sessions.
Kat, your track is first with promotion set for the week of August 16.
By mid-November, all of the tracks should have been featured.
Susan
Dates for Press Releases and/or Promotion for Rotary World Peace Conference 2016 Week of:
August 16 – Track 13(M) – Rotary Creating Peace Worldwide
August 23 – Track 5 (E)– Reducing and eliminating Conflict in the Workplace
August 30 – Track 8 (H)– Civil Rights – Let's Make Sure This Never Happens Again
September 6 – Track 4 (D)– Community (Adults)
September 13 – Track 9(I) – Diplomacy and War
September 20 – Track 7 (G)– Creating Peace Through Education – Peace Fellows
September 27 – Track 6 (F)– International
October 4 – Track 3(C) – Community (Youth)
October 11 – Track 2(B) – Identifying and Eliminating Conflict in Our Schools
October 18 – Track 1(A) – Personal
October 25 – Track 10 (J)– Religion – Commonalities and Connecting for Good
November 1 – Track 12(L) – International Trade
November 8 – Track 11(K) – Film/TV/Media – Using the Power of Media to Address Conflict
Each track will have a Coordinator and a Moderator
---
We Rotary eClub July 2015 Updates
We Rotary Update | Foundation Committee Deadline Aug 1st–Thank you to members Steve Yoshida & Eddie Lim for your hard work in completing our clubs grant request…
---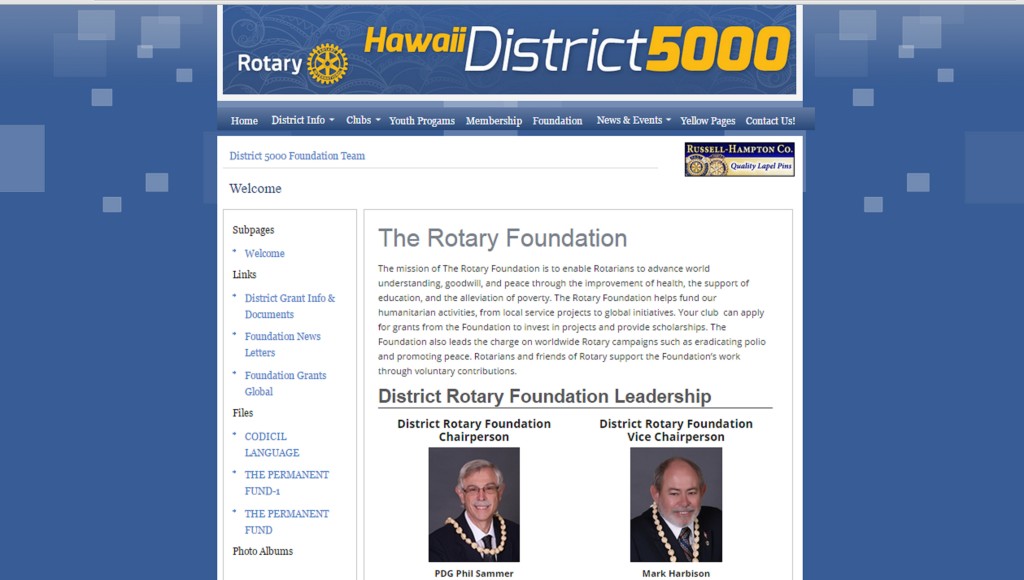 Subject: District Grant Applications due August 1st – ONE WEEK!
Dear Genesis Leong,
Aloha, Wonderful Presidents, Assistant Governors, and Community Service Chairs for 2015-2016!
I hope you've all gotten settled into your new roles and hit the ground running.  I want to remind you that your application to use your District Grant Allocated Funds is due to me by midnight August 1st – next Saturday!  I've attached a copy of the allocation form and also the District Grant Application form.  Both forms are also under the Foundation tab on the D5000.org website.
You can just fill them out and return them to me (cc Mark Harbison) so we can make sure the funds are saved for you.
At 12:01 am on August 2nd, we will begin accepting applications to use any funds that were not used by clubs in the first round.  We'd be really, really happy if all of the funds are used by the clubs who earned them with contributions over the last three years.  It's your money!  Use it to make a difference in your community – local or international.
If you have any questions, email me at laura@himed.cc or just reply to this email.
Thank you all for getting the year off to such a great start!  Let's come up with new and innovative ways to BE A GIFT TO THE WORLD!
Aloha, Laura
---
We Rotary eClub July 2015 Updates
We Rotary Update | Rotary World Peace Conference Twinning Certificates with One World e-Club…
---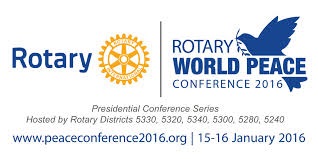 Hi Catherine,
We confirm that the Board of Directors of We Rotary E-Club agree to twin with your One World E-Club.  We should have 8 or members attending the Conference.  We copy president, Genesis Leong, and ask if she can be present for the ceremony.  If not, we can have the certificate signed by her in advance.
Maybe Friday night 15 January 2016 at the hotel is the best time and place.  We would hope to have some time together to discuss our relationship and joint projects.
In the meantime, we hope that our presidents, Susan and Genesis, can engage in a dialogue to see what areas we can work for our mutual benefit and to serve peace.  For example, we can share peace speakers, social events, international service projects, information about club activities.
Sincerely, PDG Steve
---
We Rotary eClub July 2015 Updates
We Rotary Update | Rotary World Peace Conference Promotion – Welcoming Virtuosi Yakutii Group to the Peace Conference. For more information visit…
---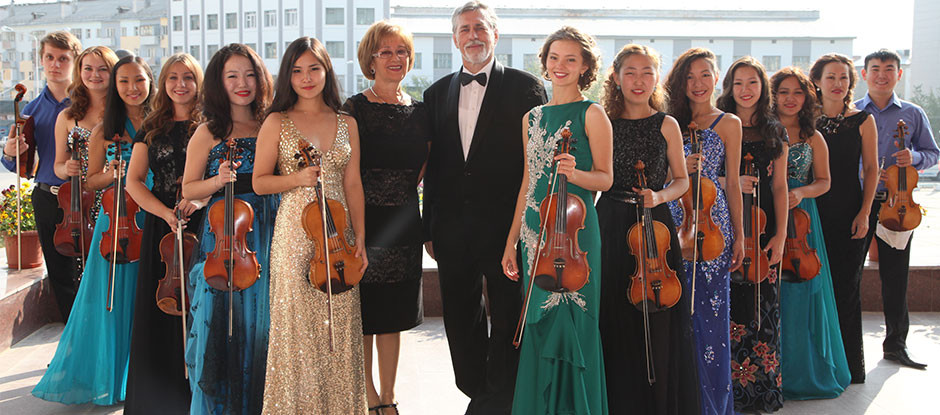 Dear Kapitalina Kapitonovna!
Sending our press release in English, as well as a link to the FB  https://www.facebook.com/SiberianVirtuosi our records as there are in youtube.
Sincerely,
–
Director of the AU "State Ensemble
Violinists of the Sakha Republic (Yakutia)
"Virtuosos of Yakutia"
Aphanasenko Stanislav Maksimovich
---
District 5000 July 2015 Updates
D5000 Update | D5000 Vocational Committee "IGNITE" Update – Learn more about D5000 updates on the memberships within our district…
---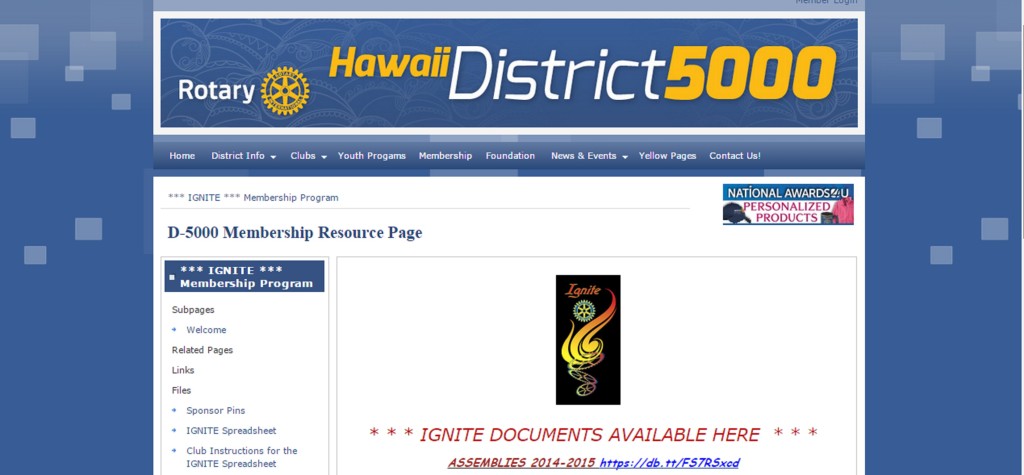 Fellow Rotarians of D5000,
This is Rotarrific !!  What a journey it has been. As I transition over as your D5000 Vocational cheerleader, I wanted to reflect on what we have accomplished together these last three years.I couldn't thank enough my Assistant Membership Team who took our vision to the clubs and all the AGs, who made Membership their priority! I bet you still remember the first time you heard about something called IGNITE that was being launched in Zone 25/26; I vividly recall the quizzical looks on many of your faces when we first introduced this program! However, rather than toss away everything we were doing, we used IGNITE as a "toolbox" and in the first year ended up as a top District in Zone 25/26. We also incorporated Networking/Vocational under PDG Chet's "Back to the Future" vision and the strong support of DGE Clint (then the Vocational Chair).
When we started out, our Membership was 1660 strong; using IGNITE/Vocational/Networking as a three way punch, we reversed the 5-year downward trend at an average of 85 members a year, by both adding more new members and at the same time by getting more of our members engaged in Rotary. We also chartered new clubs to fill voids and create more opportunities for people interested to join. During the last 3 years we chartered 4 new clubs (of which 2 eClubs) with a total of 107 new members!
IGNITE was successful because it is a multi-year endeavor, and thanks to the commitment of PDG Phil (Energizer) and PDG Laura (Lighting up Rotary) [gotta love how IGNITE resonates with both these themes], we now have 51 clubs with 1732 members (that's a net growth of +71) of which the recently chartered Rotary Club of Lana'i expands our geographical reach. Rotary Means Business is more than a slogan, it has allowed us to attract a new generation of Rotarians who are seeing Rotary in a different light. When there are many choices for individuals to join organizations that offer community service opportunities, I cannot stress enough how important it is to work with each other and to learn from each other. Let's continue to make vocational, and specifically networking, an integral part of Membership.
To this date many clubs in D5000 have successfully attracted new members and retained their existing members when organizing networking events in relax social settings outside of their regular club meetings.
Did you know, vocational service is different from all other Rotary Services as it focuses on the individual Rotarian.
Did you know, every Rotarian has a dual responsibility – representing their vocation within the club and exemplifying the ideals of Rotary within their workplace.
Did you know, until 1945 club secretaries were responsible for keeping track of business deals between Rotarians.
Did you know, Rotary Means Business now is an officially recognized Rotary Fellowship, and since last year, we have a RMBF in Kailua-Kona, started by a Rotarian in the Kona Club. The purpose is to bring Rotarians from various clubs together on a monthly basis, but most importantly offers a platform to introduce business professionals to Rotary.
Let's have a RMBF on each island!
Rotary has so much to offer to business professionals, including the resources to enhance their leadership skills. I encourage you to continue using IGNITE if it has served you well, or take a new look at it if you want a boost; most importantly, embrace NEW FOCUS to take your Membership to the next level! "Process is more important than Outcome" – When the outcome drives the process we will only ever go to where we've already been. If process drives outcome we may not know where we're going, but we will know we want to be there! (as quoted from Incomplete Manifesto for Growth by Bruce Mau Design). None of this would have been possible without my mentor, PDG Ayman. He left me with a solid foundation to build on when I took over from him, and I feel extremely humbled by what ALL OF YOU have accomplished, so that I can return the favor back to him this year.With much appreciation.
Yours in Rotary, Marco Schlesser
Vocational Chair 2015-2016, Past Membership Chair 2012-2015, Rotary District 5000 – Hawaii, President-Elect Rotary Club of Honolulu Sunset 2016-2017
---
District 5000 July 2015 Updates
D5000 Update | RI President Ravi Visit's Hawai'i for our 100 years in Hawai'i – Ravi's media coverage…
---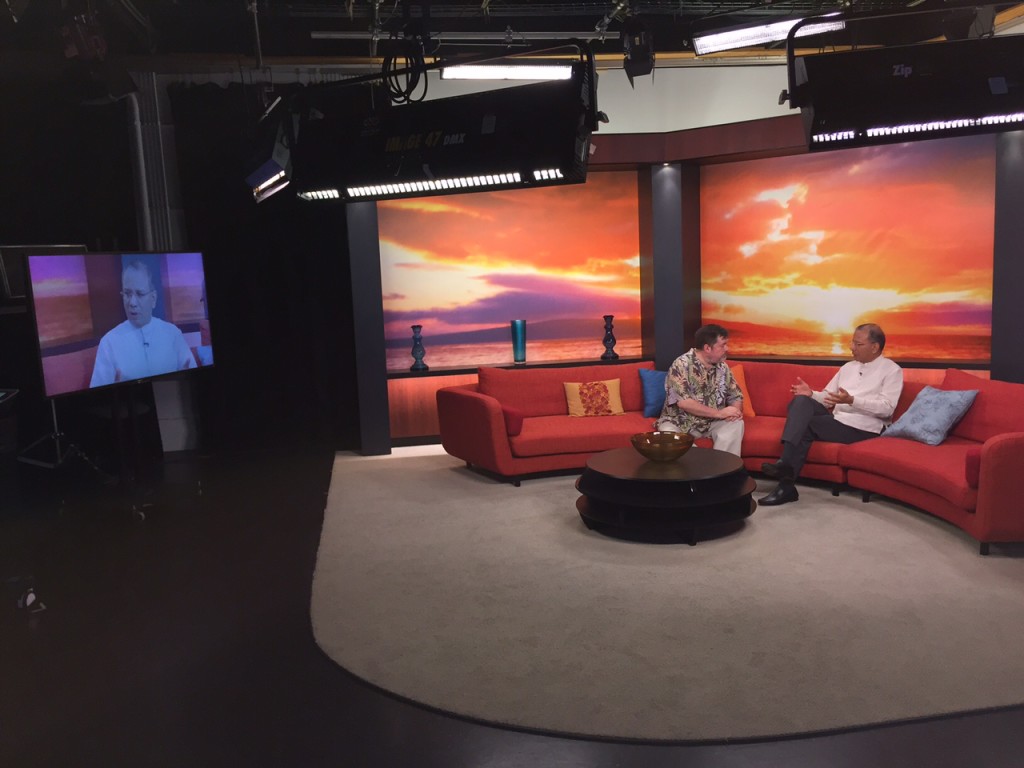 Aloha fellow Rotarians –
Below is a link to the two TV morning news interviews with RI President Ravi promoting Rotary's 100 years in Hawai'i and Rotary International.    In addition I've added some behind the scene pictures.  Please share these images and links with your club members and post them on your social media outlets.
http://www.hawaiinewsnow.com/story/29504270/hawaii-celebrates-100-years-in-rotary
http://khon2.com/2015/07/08/rotarys-100th-anniversary-in-hawaii/
— Lance
Lance Rae
District 5000
District Public Relations Chair 2015-2016


Go to the Top
---
District 5000 July 2015 Updates
D5000 Update | Literacy Newsletter – To learn more about D5000 Literacy programs…
---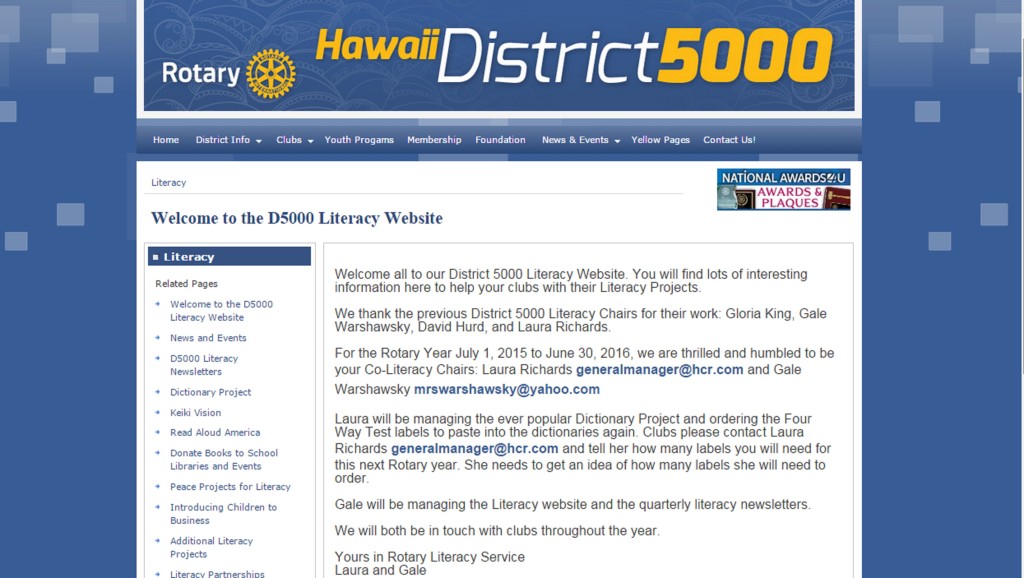 District 5000 | Literacy Newsletter
July 5, 2015 Introduction to the D5000 Literacy Website
Aloha all! Welcome to our first D5000 Literacy Newsletter for 2015. To kick off this Rotary year, we wanted to make the clubs aware of our D5000 Literacy website. To access it go to http://www.rotaryd5000.org/ and then scroll down on the left side of the window and click on Literacy. That takes you to the Home Page for the D5000 Literacy website. There you will see a welcome message, and on the left side of that window, you will see a list of Related pages. Each of these Related Pages has useful literacy information for your club. For example, Click on the Dictionary Project and there are all the files about that project. Is your club interested in the Keiki Vision project? Then click on that and there are all the files about that project. Etc. etc. etc.
The last item listed on the Literacy Home Page, under Related Pages, is Literacy Suggestions. As last Rotary year, for Rotary Year 2015-2016, all clubs in D5000 will integrate their literacy activities into the Five Avenues of Service. There will not be "District Literacy Awards" or "Distinguished District Literacy Awards" as there were in the past. And at the District Conference in May 2016, top clubs will be recognized in each of the Five Avenues of Service, as the District has done in the past. Literacy activities continue to be very important to D5000. This continues to bring D5000 into alignment with Rotary International.
We urge all Rotarians to visit the District 5000 Literacy website. There is so much information on it. We view this as a central repository of Literacy information and it is available for ANYONE IN THE WORLD to access and read.
Have literacy projects to share? Please send them to Gale Warshawsky by email at mrsswarshawsky@yahoo.com Gale manages the District 5000 Literacy website pages and the District's Literacy Newsletters. Laura Richards and Gale Warshawsky are co-chairing the District Literacy Chair responsibilities this Rotary year and they invite club Literacy Chairs to send brief descriptions with jpg files (no bigger than 500 K in size) to Gale so they can be included in quarterly District 5000 Literacy Newsletters which will be housed on the Literacy website. Laura Richards will be managing the Dictionary Project and the Four Way Test Labels this Rotary year. If you have questions about that, after you have visited the Dictionary Project (Related Pages off the Literacy Home Page), please send your questions by email to Laura Richards at generalmanager@hcr.com
We look forward to working with all the clubs in D5000 this next Rotary year.
Yours in Literacy Service, Laura Richards and Gale Warshawsky
---
Rotary International July 2015 Updates
RI President Update | RI Pres Ravi Welcome 2015-2016 Video – Inspirational video to kick-off the start of the 2015-2016 "Be a Gift to the World" year. ..
---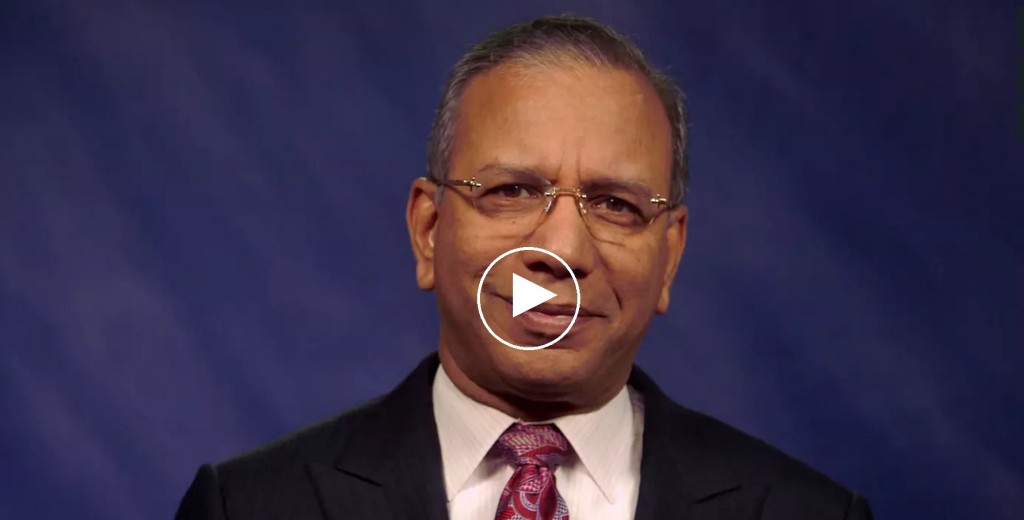 Subject: Welcome to the New Year Rotary
Dear Club Officers,
Although I cannot join every club for each of their changeover or installation ceremonies as you may call them, I want to emphasize how important each event is, for they mark the beginning of this new Rotary year. Both you and I only have this one opportunity to lead Rotary in our new roles and must commit to making the most of it.
I hope the video message below will inspire not only you but your fellow club officers, as we work together over the next year to share the good work of Rotary and to Be a Gift to the World
Sincerely,
K.R. "Ravi" Ravindran
Rotary International President, 2015-16
---
Rotary International July 2015 Updates
RI Update | Water & Sanitation Rotarian Action Group Newsletter June/July 2015 Released – Learn more about WSRAG Projects…
---
If you cannot see newsletter, view it here.

The Water & Sanitation Rotarian Action Group is a group of Rotarians whose purpose is to support Rotary clubs to effectively plan, finance, implement, monitor and evaluate water, sanitation, and hygiene programs, where they are most needed in a collaborative, cost-effective, timely, and sustainable manner, true to the principles of Rotary International. Wasrag operates in accordance with Rotary International policy but is not an agency of, or controlled by, Rotary International. www.wasrag.org
 Newsletter  June / July 2015
---

WWS7 in Sao Paulo

This year's theme of WASH in Schools proved to be very popular.  Attendees gave the event rave reviews. If you weren't able to attend in person, you can listen to all the sessions by logging into WWS7 – Audio & PowerPoints.  You'll also find the PowerPoint presentations that were used by our presenters.
---

Hygiene Matters!

Surprizingly, hygiene education was left out of the Millennium Development Goals. Now, there is a movement afoot to include this important, effective, and affordable method of preventing diarrhea and pneumonia in children, in the new "SDGs". The SDGs or "Sustainable Development Goals" will replace the MDGs for 2015. The challenge seems to be agreeing on appropriate indicators for tracking hygiene, as described in a recent Huffington Impact article by Dr. Layla McCay. Read More…
---

Help Wanted! 

For the last few years Wasrag's newsletter has generated a very positive response from our growing contact list (40,000+ at last count).  Now it is time for a new Newsletter Editor!

The ideal candidate will have a passion for WASH and good writing skills.  Some technical ability is essential to manage the Constant Contact software that we use to produce the newsletter.  If you are interested in applying or would like more background, please contact us at info@wasrag.org.
---

Bench Terracing Works!
The Rotary Club of Poona, Rotary District 3131, India has undertaken a major Watershed Management Global Grant Project. The project is for US $155,000 and is located in the Village of Masobawadi, Dist. Sangamner, an area of around 50 hectares which has scanty rainfall. To manage & utilize runoff water for useful purposes, protect, conserve and improve the land for efficient & sustained production, rainwater is captured as it runs downhill. The Project, expected to be completed by 2016, will reduce soil erosion, increase infiltration of rain water and provide livelihood to the villagers. Bench Terracing brings sloping land into different level strips to enable conservation of water & cultivation. It consists of construction of step like fields along contours by half cutting and half filling. The original slope is converted into level fields.
---

India's water supply to drop by 50% 

"Groundwater levels are falling as India's farmers, city residents and industries drain wells and aquifers. What water is available is often severely polluted. The future may be worse, with the national supply predicted to fall 50% below demand by 2030.

Enter the India Water Tool 2. 0, a new web platform. It's the most comprehensive, publicly available online tool yet to evaluate India's water risks. Created by a group of companies, research organizations, and industry associations-including WRI and coordinated by theWorld Business Council for Sustainable Development (WBCSD)-the tool can help companies, government agencies, and other water users identify their most pressing challenges and carefully target water-risk management efforts."  Read More… 
---

A Plea from one Club President to Another

Three years ago, the president of the Rotary Club of Downtown Los Angeles, Peter Lattey received a plea for help from the President of the Migori, Kenya Rotary club on the club's Facebook page.  The Migori club was failing and he needed some advice.  After some discussion it was decided that the club should find a service project that would raise their profile in the community. Thus was born a water and sanitation project that will ultimately provide clean water, latrines and hand wash stations to over 15,000 school students.

Read More…
---

Adopt A School Program

WASRAG is partnering with Procter & Gamble, H2O for Life, PIND Foundation and Rotary Clubs to provide water, sanitation, hygiene education, and menstrual hygiene management, in 30 schools in Rotary District 9140, the Niger Delta, Nigeria.

The first nine schools have been selected and planning is complete. Five of these schools have now been "adopted" by international Rotary Clubs! If you are interested in getting involved in this program, and leveraging your fundraised dollars
(approximately $4 contributed for every Rotary Club $1!) please contact Nancy Gilbert.
---

New Projects…

We love hearing about your projects and are delighted to relay these great opportunities for Rotarians to get involved in WASH projects! When posting your projects on the Wasrag website, please remember to include the name of your Rotary club and District number. Contact us at

info@wasrag.org

if you need help with your posting.
The Water & Sanitation Rotarian Action Group is a group of Rotarians whose purpose is to support Rotary clubs to effectively plan, finance, implement, monitor and evaluate water, sanitation, and hygiene programs, where they are most needed in a collaborative, cost-effective, timely, and sustainable manner, true to the principles of Rotary International. Wasrag operates in accordance with Rotary International policy but is not an agency of, or controlled by, Rotary International.
– See more at: http://www.rotarydistrict9685.org.au/Stories/wasrag-newsletter-2#sthash.ooll8Gjj.dpuf
---
Rotary International July 2015 Updates
RI President Update | RI Pres Ravi Polio Eradication in Nigeria Update – Information about the polio-free country of Nigeria and the $688.5 million to fight polio throughout Africa…
---
We're delighted to report that [today] Nigeria has passed one year with no new cases of the wild poliovirus. This is the longest the country has ever gone without a case of polio and a critical step on the path toward a polio-free Africa. We've come a long way since the bleak years when the virus reached its peak. It was only a decade ago that polio struck 12,631 people in Africa- three quarters of all cases in the world.
We congratulate Rotarians who have donated $688.5 million to fight polio throughout Africa, including more than $200 million to Nigeria. We congratulate Rotarians from Africa and around the world who have also devoted countless hours to immunize the children who now have the opportunity for healthier, happier lives.
With the ambitious scope of Rotary's PolioPlus program, our efforts are having a far-reaching, transformative impact beyond the eradication of polio
With the infrastructure put in place by the Global Polio Eradication Initiative (GPEI), Nigeria not only reduced its polio caseload by 90% in 2014, but it also successfully thwarted the world's most lethal Ebola outbreak to date, in only 90 days, a response faster than even the U.S., and rightly praised by the World Health Organization as 'world-class'.
In Nigeria and elsewhere, the Initiative provides a blueprint to reach all children with a package of lifesaving vaccines and health interventions. This is a vital step on the path to human development, as we know that with improved public health, more resources can be channeled towards education and economic growth.
If the stringent World Health Organization testing criteria are met, then Nigeria could be removed from the list of polio-endemic countries in September of this year. However, our work is not done. We know that polio can easily return, with devastating consequences, if we don't stamp it out now.
We must act, as Rotarians do, to build on the progress made and stop polio once and for all. We have a narrow window of opportunity to achieve this, and if we fail, we could witness up to 200,000 cases a year in the near future.
So how can we finally make history and end polio now?
Today, we must protect the progress made in Nigeria, and support Pakistan and Afghanistan, the other two remaining polio-endemic countries. Protecting progress means enhancing surveillance, routine immunization, and community engagement in Nigeria and other countries where transmission has been stopped. Supporting Pakistan and Afghanistan means full political and financial commitment to eradicating polio; vaccination of all children in these countries; high quality surveillance, and the accomplishment of all the expert recommendations as part of the GPEI's Polio Eradication and Endgame Strategic Plan.
Visit endpolio.org to download a toolkit of materials to help you share this progress – and the need for continued commitment in the coming years – with your Rotary club, your communities and your elected officials.
This all requires time, energy and investment. Pakistan's budget requirements for polio eradication activities from 2016-2018 amounts to $305.7 million, and if we can raise this sum now, a polio-free world will reap financial savings of US$50 billion over the next 20 years and prove what's possible when the global community comes together to improve children's lives. Your donation to PolioPlus will be matched 2 to 1 by the Bill & Melinda Gates Foundation, tripling your contribution.
Thirty years ago we told the world what Rotary believes: that we can achieve the eradication of only the second human disease in history. Our belief is becoming reality. For every child, let's make sure that reality is a bright one.
Warm Regards,
Rotary International President K.R. "Ravi" Ravindran and Rotary Foundation Chair Ray Klinginsmith


Go to the Top
---
Rotary International July 2015 Updates
RI Reminders | Rotary President Task for the 2015-2016 – There are a variety of requirements needed to be completed by each Rotary Club President….
---


Subject: Rotary Service Connections
Rotary – What you need to know about the 2015-16 Presidential Citation  July 2015
To:       2015-16 Rotary Club Presidents
Cc:       2015-16 District Governors
2015-16 Assistant Governors
Dear Rotarian Leong,
Each year the RI president offers a Presidential Citation program to Rotary clubs that accomplish specific goals that advance Rotary's strategic priorities. RI President K.R. "Ravi" Ravindran's Presidential Citation brochure describes the goals clubs must achieve in order to earn a citation in 2015-16. We hope that your club will challenge itself by actively working towards these goals.
In the past, Rotary clubs have been asked to report their accomplishments to their district governors, who in turn would report to RI. However, with new and improved online tools, we have enhanced our capacity to gather and analyze data. This year, your club will no longer need to submit a form to your district governor and your district governor will not need to report the names of qualifying clubs to RI.
Tracking your club's performance Starting today, you can sign in to Rotary.org and access a report to track your club's progress towards each of the Presidential Citation goals for 2015-16. This report indicates which goals your club has achieved and which goals it has not yet achieved. The report will be updated daily so you can track your progress throughout the year. The deadline to accomplish goals and have them recorded in RI's database is 1 April 2016. You and your fellow club officers can access this report by signing in to Rotary.org and going to Manage > Reports > Awards. Please note: club membership data as of 1 July will not be available in Rotary's database until the end of August. As a result, the Membership Development and Retention goals will not be trackable in the Presidential Citation reports until September.
Rotary Club Central goals Some of the goals in the 2015-16 Presidential Citation are tracked in Rotary Club Central; these are clearly noted in the Presidential Citation brochure. It is your responsibility as club president to ensure that achievement of these particular goals is recorded in Rotary Club Central before the final deadline of 1 April 2016.
Citation for Rotaract clubs A citation program for Rotaract clubs is available online: https://www.rotary.org/myrotary/en/document/presidential-citation-rotaract-clubs Achievements for Rotaract clubs will be recorded automatically as the goals are accomplished. If you currently sponsor an active Rotaract club, you will have the ability to access an online report tracking your Rotaract club's progress. These reports are accessible on Rotary.org in the Club Administration section. Rotaract club leaders will not be able to access this report directly.
Citation for Interact clubs A citation program for Interact clubs is available online: https://www.rotary.org/myrotary/en/document/presidential-citation-interact-clubs As Rotary is not yet able to verify all goal accomplishments for Interact clubs, Interact club presidents must report their accomplishments to their sponsor Rotary club president no later than1 April 2016. The sponsor Rotary club presidents will be responsible for reporting the names of any qualifying Interact clubs by signing in to Rotary.org and using a special Interact club citation reporting module to report the names of all qualifying clubs by 15 April 2016. We will contact all sponsor Rotary club presidents with instructions on how to access this reporting module early in 2016.
Additional information Visit the Presidential Citation webpage on Rotary.org for additional information, including a Frequently Asked Questions guide. If you have additional questions that we have not yet addressed, please feel free to contact us.
Best regards,
Azka Asif
Coordinator,Awards | Rotary Service Connections
---
Rotary International July 2015 Updates
RI Update | Rotary Global Rewards – The release of this member benefit program that offers discounts on products and services to all Rotary Members…

---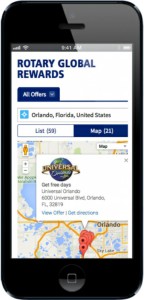 Dear Rotary Leaders,
I'm pleased to introduce Rotary Global Rewards – a new member benefit program that offers discounts on products and services like travel, hotels, dining and entertainment. Rotary Global Rewards is designed to make membership even more rewarding for Rotarians and is an exciting way Rotary can give back to those who give so much. Rotary Global Rewards help Rotarians:
Do more good work– involve more members in or expand the impact of Rotary projects with savings on truck rentals, airfare or hotels
Build Rotary friendships– forge richer friendships with fellow Rotarians with your dining and entertainment offers
Share your story with someone new– tell people about Rotary's work with discounts at coffee shops and restaurants
With Rotary Global Rewards, the good you do comes back to you. I hope you will all find ways to take advantage of the benefits this program offers.
You can learn more and redeem Rotary Global Rewards atrotary.org/globalrewards
Sincerely,
K.R. Ravindran
President, Rotary International 2015-16
---
Rotary International July 2015 Updates
RI Update | Membership Recognition Program – Earn an opportunity to gain a sponsor recognition pin for new members you sponsor into our club…
---


Subject: RI New Member Sponsor Recognition Program
Dear Club Presidents, Club Secretaries and Club Membership Chairs,
Greetings from Evanston! We hope this message finds you well.
Since its start in January 2014, the New Member Sponsor Recognition Program has been received well around the world. We hope that your club will continue to take advantage of this opportunity to recognize your members' efforts in strengthening your clubs.
To ensure your sponsors are recognized please remember that the program is almost entirely automated and relies on sponsor information provided by club officers. The most common reason clubs do not receive sponsor recognition pins is the absence of a sponsor linked to a new member in Rotary database. The pin shipment is generated when the sponsor's name and email is received in RI database. Directions to enter sponsor names and email addresses are available at the link below: http://www.highroadsolution.com/file_upload_2/files/sponsor+name+and+email+addresses+en.pdf
A few other things to keep in mind:
Sponsor names do not transfer from ClubRunner or DACdb to RI database if they were added after the new members were already entered there.We recommend you check sponsor names in Rotary Club Central reports from time to time to ensure that recognition opportunities are not missed. Directions to view related reports are available at the link below: http://www.highroadsolution.com/file_upload_2/files/new+member+sponsor+reports+en.pdf
Pins typically take 6 to 8 weeks for international delivery (4 to 6 weeks for US) from the date when the sponsor information is received.To minimize the waiting period, we recommend entering sponsor names inmyRotary as soon as the information is available.
New member sponsors without email address in RI database will receive communication regarding the pin by letters in the mail, and the pin processing will take longer than usual.If an email address is available, please consider updating it in myRotary.
The brochure and frequently asked questions may also be helpful resources. Thank you for your support for membership development, and please contact us if we can be of assistance.
Best regards,
Membership Recognition Team
MembershipAwards@rotary.org
---
Rotary International July 2015 Updates
RI Update | Leader Newsletter | Peace Fellows; Rotary on a Budget; San Paulo; Club Invoices….
---

Leader
If you cannot see newsletter, view it here.
---
---
---
---
How To
Promote Rotary on a budgetIt doesn't have to cost a fortune to spread the word about The Rotary Foundation and the projects it supports, which are creating lasting change in communities around the world. It's even possible to negotiate free ad space. Read about creative ways that clubs secure publicity, and get ideas you can try.
---
---
Meeting Place
Five don't-miss opportunities in São PauloDuring the 2015 RI Convention in São Paulo, you'll have a chance to experience samba, the Afro-Brazilian musical form that expresses the vitality of Brazilian culture. You'll also be able to start your day by connecting with fellow Rotary members over a great cup of coffee, and then to top off the evening with world-class cuisine. See our rundown of don't-miss opportunities in São Paulo.
---
---
| | |
| --- | --- |
| | GET READY FOR YOUR JULY CLUB INVOICE; CREATE A MY ROTARY ACCOUNT TODAY |
Your next club invoice will be available online in late July. Make sure you're able to access it by creating a My Rotary account.
---
MAKE A RECURRING GIFT AND SUPPORT ROTARY YEAR-ROUNDSupport our efforts to do good year-round by making a recurring gift – a simple and secure way to make a big impact.




---
---
Club Clinic
New club invoice makes life easierGail Winterstella, president of her New Jersey Rotary club, was excited when the one-page invoice from Rotary International arrived in January. No longer would anyone have to face the dreaded task of filling out the eight-part semiannual report. Find out what you need to do to prepare for the next invoice, coming in July.

---

Resources & referenceThe Rotary Foundation Reference Guide
2013-14 Annual Report
Grant information

---

Rotary Leader is a bimonthly publication that offers practical information, resources, and tools to help club and district leaders succeed.Send questions and story ideas to rotary.l
---
Rotary International July 2015 Updates
RI Opportunity | Rotary Global Essay Competition – ROGEC 2015 – Peace essay winners will earn an invitation to visit India and Rotary Club of Pune Katraj….
---


Dear Rotarian,
I am President of Rotary Club of Pune Katraj, RI District 3131, India. I am proud to be a Rotarian and pleased to have had the opportunity to lead my club. I welcome you all to the new Rotary Year and wish you all the very best for the coming year. As Rotarians, together we will make this world a better place to live.
I am writing to you all to appraise you on a unique event that we are organizing again this year. After the huge success that we had in the year 2013-14, we are again back with ROGEC-2015, a global essay competition with a view to crusaders of Peace in a constructive dialogue and allow them a platform to express themselves on global issues concerning Peace.
This competition is open to all the citizens of the world. The winners will be invited to India for 5 days and will get involved in various informative and cultural activities.
The essays can be submitted online at http://www.rogec.org/registration.html. The last date for essay submission is 10-Nov-2015
Detailed information is available on www.rogec.org and please Like our Facebook page on www.facebook.com/Rotary.Rogec.
I request you to circulate this mail among your members, friends and acquaintences, share this information through your Club bulletins and encourage participation in this event.
Looking forward to a great year ahead.
Regards,
Rtn. Suvarna Kutwal
President, Rotary Club of Pune Katraj RID 3131, INDIA
www.rogec.org
www.facebook.com/Rotary.Rogec
---